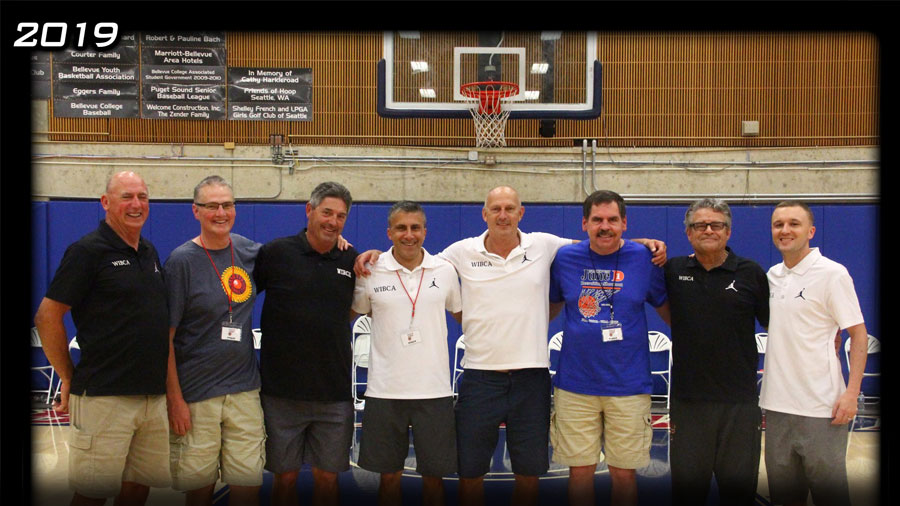 In 1978 WIBCA's Founding Fathers gathered to create an organization to represent and support high school basketball and coaches in the state of Washington. The Washington Interscholastic Basketball Coaches Association (WIBCA) was started by legendary coaches such as Ed Pepple, Don Koplitz, Jim Harney, Wayne Gilman, Lyle Patterson, and Mel Bowden. WIBCA is thriving and continuing to serve over forty years later.
Today, in addition to advocating for and representing high school basketball and its coaches, WIBCA provides countless services and opportunities for coaches and players. Some of them include six All-State games, a Spring Showcase Event, a Hall of Fame induction banquet, and scholarship offerings to student-athletes. For the fourth year, the 60 participants in All State games are not charged a fee. Each fall, WIBCA sponsors a Coaches Clinic in Yakima in conjunction with the weekend of its general membership meeting. During the basketball season, WIBCA encourages and provides support for coaches to hold a Coaches vs Cancer game in their leagues and gyms. The coaches' association selects a player of the year for each classification and a "Mr. Basketball". Each year WIBCA fields a team for the Northwest Shootout, where our state's seniors play the best of Oregon.
This year the Shootout was won by the good guys. This summer two new events were added to WIBCA's busy calendar. The first was a Regional NCAA D1 Recruiting Showcase game June 29-30. Attempting to overhaul the D1 recruiting process, the NCAA has encouraged state coaches' associations to host showcase recruiting events. WIBCA responded by providing the largest such showcase in the nation. With 128 players from 8 states and over 80 collegiate coaches attending, WIBCA's D1 Showcase was seen by the NCAA as a prototype for future showcases nationwide. A second summer event on the docket was hosting the National High School Basketball Coaches Association Annual Congress in Seattle July 9-11. Hosting 49 leaders from 21 states, the NHSBCA Convention enables state associations to share ideas and cast a collective vision for American high school basketball with the beauty of Seattle summertime as a backdrop.
Since its inception over 40 years ago, WIBCA has done much to serve and represent the coaches and players of our state. It is a credit to the association that WIBCA is able to positively impact coaches and players statewide and beyond!